Medical equipment on which people's lives depend needs to be supplied continually and smoothly even in the event of a large-scale disaster. As a medical equipment manufacturer, Nihon Kohden has formulated a Business Continuity Plan (BCP) to ensure the continued supply of products and services while ensuring the safety of employees and their families in the event of a large-scale disaster. We also conduct periodic company-wide education and training in relation to disaster preparedness and the BCP. In FY2022, the Company conducted evacuation drills, safety confirmation drills, as well as desktop exercises (online joint training and review) at domestic sales branch offices, to ensure that employees take appropriate action in the event of an emergency in accordance with the Disaster First Response Manual. The Nihon Kohden Group operates its business activities throughout Japan and around the world. In the event of natural disasters and shortages of water or other resources associated with climate change, terrorism, war, or the spread of infectious diseases in each region, the procurement of parts, the supply of products, and sales and service activities may be disrupted, which could have an impact on the operating results and financial condition of the Nihon Kohden Group. The Company procures raw materials and parts used for its products not only in Japan but also around the world. In the event of a supply issue at a supplier, the Company takes measures, including the consideration of alternative parts, to ensure that the production of its products is not affected.
In March 2015, Nihon Kohden drew up a business continuity plan to ensure that even if the Company suffers damages and losses due to a major earthquake, the provision of products and services can continue or be quickly restored. The BCP sets forth organizational charts, initial response manuals in the event of a disaster, subsequent restoration plans following an initial response, operational procedures, and disaster mitigation measures to be taken under normal conditions for each business site. In February 2020, we also drew up an initial response manual for a possible flood disaster.
To ensure that the business continuity plan will function effectively during a disaster, Nihon Kohden sets the BCP Operating Regulations and established the BCP Operation and Management Committee tasked with operating and managing the BCP. To ensure the effectiveness of the BCP during a disaster, the Committee conducts periodic Company-wide education and training. In addition, the BCP is reviewed periodically to make ongoing improvements.
Protect employment while placing a priority on the lives and health of employees and their families

Fulfill our responsibility to supply products and deliver services to customers, and endeavor to maintain a healthcare structure

Support customers and contribute to local communities

Maintain close coordination with affiliate companies and minimize the impact on the management of both parties
Nihon Kohden rolled out its safety confirmation system in 2009. The safety confirmation system enables us to quickly ascertain the safety of employees and their families after a disaster as well as ascertain the extent of the damage and implement measures to restart business operations. During a disaster, an email is sent to all employees in the affected region. Responses to this email are monitored on a dedicated web page. To ensure access to a communication method, Nihon Kohden deploys satellite phones that are not bound to the normal telecommunications networks in each of its principal business locations in Japan.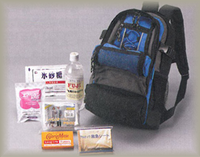 Nihon Kohden provides a disaster preparedness kit to each of its employees in Japan. This is a portable bag containing essential supplies for an earthquake, typhoon or other natural disaster.
Each Nihon Kohden site also maintains food and water rations in preparation for emergencies.