Manufacturers and designers from 59 countries entered more than 6,300 current product innovations in the Red Dot Product Design Award 2018. Only products that convinced the 40 experts from all over the world with their high design quality received awards in the annual competition. Nihon Kohden is proud to announce that the AE-120A EEG Headset (CerebAir) – a telemetry EEG amplifier designed at its Advanced Technology Center in Tokorozawa, Japan – received the Red Dot Product Design Award in the category "Life sciences and medicine".

The Red Dot Design Award is an international design competition. The origins of the Red Dot Design Award date back to 1955. Its distinction, the "Red Dot", is established internationally as one of the most sought-after quality marks for good design. From products to communication projects to design concepts and prototypes, the Red Dot Award documents the most prominent trends worldwide. The award-winning designs are exhibited in the Red Dot Design Museums. This is the first time for Nihon Kohden to receive this award.

[About the AE-120A EEG Headset]
The AE-120A EEG Headset is a telemetry EEG amplifier, developed for quick and easy cEEG monitoring. One of the difficulties of performing EEG monitoring in ER/ICU is that very few physicians can apply 10-20 EEG electrodes to the correct positions on a patient's head. Additionally, laboratories are not open during nights and weekends. The AE-120A EEG Headset could be a solution for these problems. Anyone can apply it by following simple steps in ER/ICU or other settings. The design combines ease of application with a feeling of solid reliability. Curved lines follow the contours of the patient's skull and the headset's small dimensions are designed to avoid interference with other medical equipment attached to the patient's head. The headset's flexible design allows electrodes to be positioned correctly simply by placing the pad on the patient's forehead. Disposable electrodes enable quick application without needing to prepare attachment sites first. EEG measurement data can be transmitted wirelessly using Bluetooth, which enables EEG to be measured in an ER/ICU without adding to the number of medical devices surrounding the patient.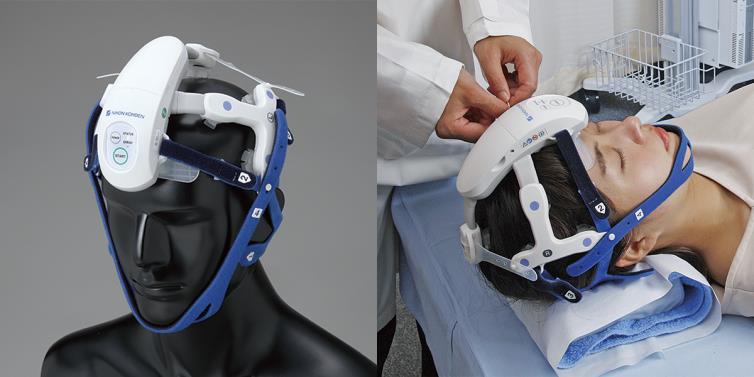 In order to internationally spread the idea of design, Red Dot regularly stops at design metropolises all around the globe and displays the awarded products within the framework of different exhibitions. In an annual tradition, the honored products including Nihon Kohden´s AE-120A EEG Headset (CerebAir) will be presented to the visitors of the Red Dot Design Museum Essen in the exhibition "Design on Stage". Starting with the award ceremony on Monday, 9th of July 2018, AE-120A EEG Headset (CerebAir) will be on display in the exhibition and open for viewing by visitors.